Did you know we are the only ones who create waste on this earth, toxic waste that then remains in our earth long after we are gone, yet we are the most creative!
Some of the few environmental effects are water pollution, soil contamination, pollution and leachate.
We are only born into this amazing world once, why ruin it for us, our children, our grand children and so on?!
Do your bit by simply using reusable shopping bags, reuse those pasta jars as containers instead of buying plastic ones, think twice before taking that old piece of furniture to the tip and see if its something you can recreate or restyle with a lick of paint or even pass on to someone who may find a use for it.
There is SO much we can do, just start small and know you are doing your little bit to help save our environment. It will start a domino effect and more and more people will be educated and inspired to make a difference.
Up-cycle, refurbished, reuse, salvaged. Just a few words that I am so passionate about.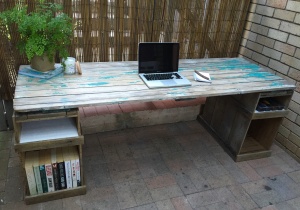 Here is one of my most favourite pieces I've put together, all using recycled materials from over 100 years old! The table top used here was once a outside toilet door. I re-enforced it so it can last up to another 100 years. The door was originally painted blue, fading & wearing nicely from the weather. People pay hundreds of dollars for this distressed look! I gave it a light sand and sealed it for protection.
I used 2 vintage packing crates. These were originally used to and from over seas for shipping items. Shelves were put in for extra desk storage.
What I love most about this piece is the history that comes with it and the fact it has been re-used as some thing so practical. A uni student purchased this actually, perfect for his studies.