When I was a kid and I got asked what I wanted to be when I grew up, I straight away said 'An artist!' I just loved doing things with my hands, pretty much anything that required attention to detail, patience or a steady hand. I would spend a lot of my weekends as a kid on the floor of my bedroom with my large craft box making birthday, Christmas, Easter, miss you, I love you cards, anything I could think of as an excuse to make something for someone. Been the last child of 6, I had endless people to get crafty for. The older I got, the more I experimented and the more creative I got. I then started to make things for my bedroom, photo frames, decorations, wind chimes and gifts for my family. My favourite part of all of this was choosing what colours went together, trying new things and coming up with new ideas.
I eventually moved out of my little room and sub divided the downstairs part of my parent's house with my partner Tommy who's a qualified carpenter and that's where the fun began! I watched Tommy and my dad renovate and turn something that was dark, dull and musty into something big, bright and beautiful and I desperately wanted to be a part of that. I found a love for interior design and started buying magazines for inspiration and picturing how I wanted our home to look and feel, and then slowly, bit by bit, made it happen.
I'd then find myself walking into peoples homes and instantly thinking to myself 'that doesn't work there' 'thats not practical' they should have this or that' 'this colour would look great with that colour' until one day I suggested something to my old boss, to maybe get a functional desk and shelves for her office space and a toy box for her little boy who was growing up way too fast, and that was it, I re- decorated her place from top to bottom and turned a house into a home. From a dark little crammed unit to a bright open and organised beach feel home.
After watching Tommy renovate our home and custom build furniture for me, I wanted to push myself that little bit further and attempt building myself. I guess I could say my inspiration came from him, watching nothing been built into something was amazing and seeing how fulfilling it was and the sparkle in his eyes when things just worked! I wanted to feel that and thanks to him I have!  It's such an amazing feeling been so creative and designing new things and playing around with new paint and colours.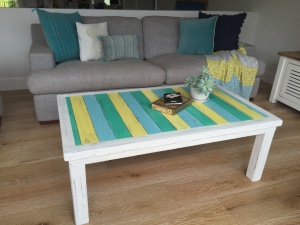 ~ The soul, creativity, or love put into something; the essence of yourself that is put into your work~